>> | Home | Survey & Information | Meeting Rooms | Free WiFi | About
---
Some Free & Public WiFi in & near Clifton Bedfordshire
---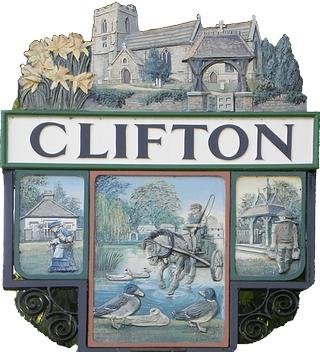 Why WiFi?
We now rely on fast broadband, and have many more Internet enabled mobile devices such as smart phones, tablets & laptops. WiFi is normally much faster, and cheaper, than using mobile data.
This is a list of some free and public WiFi services in & near Clifton, Bedfordshire.
I do hope people find this list useful. Comments, corrections, and suggestions for additions etc. are very welcome.
---
Free & Public WiFi Services.
Disclaimer & Caution: This information is provided "as is." It does not contain paid entries. Inclusion on or absence from this list does not imply anything about the service provided by particular organizations. People who use these services must do their own checks including to verify the accuracy of this information.
Be careful when using public WiFi; both about the physical risks of using an expensive mobile device in public; and about electronic security. Be especially careful if exchanging sensitive or financial information: Criminals can now create fake public WiFi hotspots, often near & using the same name as a real hotspot. This way, the criminals are able to record any passwords or other sensitive information.
---
Public Areas & Shopping Centres
Letchworth: Garden Square

Letchworth's Garden Square shopping arcade provides free WiFi.
---
Public Buildings
Public Libraries

Many public libraries, including those in Bedfordshire & Hertfordshire, offer free WiFi. Sometimes the login details are on a notice on the wall or at reception; sometimes they are only for people with a library card.

Hospitals

Most hospitals now offer WiFi in out-patient waiting areas.

Post Offices

Some Post Offices, such as the one in London's Old Street near "Silicon Roundabout" now offer Arqiva WiFi. See: Free WiFi in London.
---
Public Transport
London Underground

Virgin Media provides free WiFi at stations, but not in tunnels, for its customers and those of some other mobile phone companies. They also sell access passes.

Already this service is live at Kings Cross Underground and Old Street stations. See: London Underground WiFi.

Motorway Service Stations

Each chain of service stations seems to offer WiFi to its registered users.

Railway Stations

St Pancras station provides free WiFi, but at Kings Cross the only WiFi seems to be from eg. cafés and possibly from "The Cloud" service.

Trains

Some Great Northern trains & Thameslink trains to St Pancras & Kings Cross offer 50MBytes of WiFi.

Longer distance East Coast Trains, offer standard-class passengers 15 minutes of free WiFi.
---
Banks & Shops
Asda

Biggleswade's ASDA provides WiFi.

Barclays Bank

Most (or all?) branches now provide WiFi. Some also provide technical help. The Hitchin & Letchworth branches have WiFi.

Costa Coffee

Most (or all?) branches now provide O2 WiFi. Biggleswade and Hitchin have WiFi. You need to register for free O2 WiFi.

O2 Free WiFi

This is available to anyone, not only to O2 customers. There is a free app in the app stores. You have to register, and also set the mobile device's web browser to accept cookies. Having registered, that mobile device can then use WiFi near most O2 and Costa Coffee shops.

Sainsburys

Local branches now seem to have WiFi. Login may require registration.

Tescos

Baldock Tesco Extra has WiFi. Login may require a Tesco Clubcard number.
---
Broadband & Internet Providers
BT

If BT customers permit "guest" WiFi access to their Internet router, they can use the "guest" WiFi access on other people's Internet routers. For this, you normally need to download & register the BT WiFi free app from the app stores. This provides access to BT FON routers and to the newer BT WiFi routers.

Fewer homes in Clifton use BT Broadband, so there are fewer with routers which offer "guest" WiFi access.

Sky

Sky seems to offer its subscribers WiFi using "The Cloud" network. There are apps. for iOS & Android devices; apparently not for WindowsPhone.

Virgin Media

Virgin Media does offer its mobile phone & broadband customers, free WiFi at London Underground stations. If customers' Virgin Media home hubs have the public WiFi option enabled, those customers can use the public WiFi service from other Virgin Media home hubs.

The Virgin Media SmartCall app. seems to be available for up to two mobile devices per home broadband contract; but apparently not for WindowsPhone.
---
Home | Survey & Information | Meeting Rooms | Free WiFi | About
---
©2013–21. Curlew Communications Ltd