>> | Home | Survey & Information | Meeting Rooms | Free WiFi | About
---
Some Business Meeting Places in & near Clifton Bedfordshire
---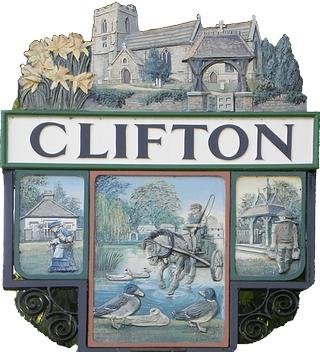 What and Why?
People working from home sometimes need to meet or entertain clients, away from the home or home office. Amongst other reasons, it might be wise to choose somewhere less isolated, especially for a first meeting.
People working in larger businesses normally have access to company-owned meeting places and conference rooms, near to their workplace. This means that little time is wasted travelling to each brief meeting, and that meetings can be arranged at short notice.
Time is precious for home-based business people, so ideally, a meeting place should be within about five to ten minutes (walking or driving); offer at least coffee/tea, peace & privacy without isolation, have WiFi, nearby parking; be easy to find; be available at short notice.
---
List of Nearby Meeting Places.
There are several suitable places within about ten miles, but few if any in Clifton. Here are some of the nearby meeting places & meeting or training rooms. Some are also good for when you need to get out of the house in order to finish that vital document or report.
Hints and Tips
Many cafés, restaurants, public houses and hotels will welcome business people. Some can provide separate rooms. But do try to avoid their peak times, especially their peak mealtimes, when their table space will be precious. It's a good idea to check that a venue is suitable, before holding an important meeting.
See also the information section of Clifton Village website, which lists many useful local organizations & services.
Disclaimer: This information is provided "as is." It does not contain paid entries. Inclusion on or absence from this list does not imply anything about the service provided by particular organizations. People who use these services must do their own checks including to verify the accuracy of this information.
Comments, corrections, and suggestions for additions etc. are very welcome.
---
Clifton
Clifton Community Centre

Has a meeting room, as well as its main hall. Cost from about 8.50 Pounds per hour.

All Saints Church Hall

Hall for hire.

All Saints Lower School Hall

Hall for hire.
---
Shefford
Shefford Library

Has public PCs; and now has WiFi; projector and screen may be available. Coffee machine. Open area suitable for quiet meetings. Also a meeting room suitable for up to about 10 people, at about 10 Pounds per hour, half-price for non-profits (during library open hours).

The Loft Café Bar, North Bridge Street, Shefford

Has WiFi. Suitable for informal meetings. Larger upper room. New longer opening hours.
---
Biggleswade
The Preen Centre, Unit 2, Shortmead Industrial Estate, Sun Street, Biggleswade

The Preen reuse centre has office space and meeting rooms available for hire. These include on-site parking, WiFi and tea / coffee making facilities.
---
Letchworth
Letchworth Centre for Healthy Living, Rosehill, Hitchin Road

Rosehill Café and two large meeting rooms. WiFi.

Letchworth Arts Centre, The Arcade

Café, Gallery, Wren Room.
---
Lower Stondon
The Meeting Rooms, Peckworth House

Office space, business services, meeting rooms, WiFi. From about 8 Pounds per hour.
---
Moggerhanger Park
Room hire & catering in the main house. Also the separate Woodside Café with its function room. WiFi. Note: At present, the Woodside Café seems to be open only for special occasions.
---
Wrest Park, Silsoe
Office space, meeting rooms.
---
Other Places
Motorway Service Stations

Many motorway service stations provide meeting rooms. Check the arrangements for parking.

Regus Centres

One of the companies which operate across the UK.
---
Home | Survey & Information | Meeting Rooms | Free WiFi | About
---
©2013–21. Curlew Communications Ltd